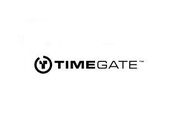 TimeGate Studios is an American video game developer based in Sugar Land, Texas (a suburb of Houston, Texas). The company, which was founded in 1998, has released seven titles to date.
The studio's first first-person shooter was in October 2006 with the release of F.E.A.R. Extraction Point, an expansion pack for Vivendi's horror game F.E.A.R. First Encounter Assault Recon. F.E.A.R. Extraction Point was named "Best Expansion Pack of 2006" by PC Gamer. TimeGate Studios further propelled the F.E.A.R. series on the PC with the release of F.E.A.R. Perseus Mandate in November 2007. The company released F.E.A.R. Files, a combination of both expansion packs, for the Xbox 360 in November 2007.
In 2009, TimeGate released a new series, Section 8, using the Unreal Engine 3. Two years later saw the release of the game's sequel, Section 8: Prejudice.
In late 2012, TimeGate partnered with Gearbox Software to develop Aliens: Colonial Marine. However, the company has been hard hit by poor performance reviews, and the state of many of their games, including the Section 8 series, is still in limbo.
In April 2013, the company announced the development of a new Free-To-Play project titled Minimum, with an expected release of late 2013. Since then, they have filed for bankruptcy. On May 9, 2013, the studio was declared defunct, with their games waiting to be taken over by other companies. However, in August 20th the studio once again hiring staffs to filling the employee during the hardship layoffs in the earlier several months. But was never enough to bring the company back to operational. Thus, developer was closed down for the final conclusion.
External Links
[
]