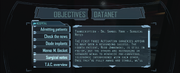 Surgical notes is an intel report found in F.E.A.R. 2: Project Origin. It is found inside the Harbinger Facility in Interval 02 - Isolation - Awakening. The report focus on the procedure of the operation and the reaction of the candidates.
Transcript
Edit
TRANSCRIPTION - DR. SAMUEL YORK - SURGICAL NOTES
THE FIRST THREE ACTIVATION SURGERIES APPEAR TO HAVE BEEN A RESOUNDING SUCCESS. THE FOURTH PATIENT, REDD JANKOWSKI, IS STILL IN PRE-OP, BUT THE OTHERS ARE RECOVERING IN SEPARATE WINGS TO MINIMIZE PRE-CONSCIOUS TELEPATHIC INTERFERENCE WITH EACH OTHER. ONCE THEY'RE FULLY AWAKE AND STABLE, WE'LL BEGIN THE ATTUNEMENT PROCESS.
MICHAEL BECKET IN PARTICULAR IS PROVING UNCOMMONLY RESILIENT; WE WERE SURE WE'D LOST HIM TWICE ON THE TABLE, BUT THEN HE STABILIZED - THROUGH NO ACTION OF OURS, I'M SURE.
Community content is available under
CC-BY-SA
unless otherwise noted.