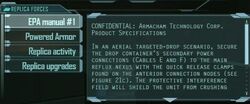 Replica Forces - EPA Manual 1 is the first of two intels that cover the specs of the Elite Powered Armor in F.E.A.R. 2: Project Origin. The first EPA Manual is found in Interval 04 - Devastation - Top, and is intel #37 in the game. The next intel found is the other half to this report, Replica Forces - EPA Manual 2.
Transcript
Edit
CONFIDENTIAL: ARMACHAM TECHNOLOGY CORP. PRODUCT SPECIFICATIONS
IN AN AERIAL TARGETED-DROP SCENARIO, SECURE THE DROP CONTAINER'S SECONDARY POWER CONNECTIONS (CABLES E AND F) TO THE MAIN REFLUX NEXUS WITH THE QUICK RELEASE CLAMPS FOUND ON THE ANTERIOR CONNECTION NODES (SEE FIGURE 21C). THE PROTECTIVE INTERFERENCE FIELD WILL SHIELD THE UNIT FROM CRUSHING IMPACT AND STRIP AWAY THE DROP CONTAINER IN ADDITION TO READYING THE UNIT FOR IMMEDIATE COMBAT. AS A SAFETY PRECAUTION, THE PILOT SHOULD REFRAIN FROM EATING FOR SEVERAL HOURS PRIOR TO AIRDROP.