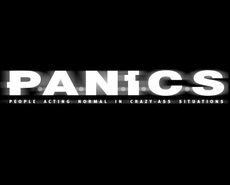 P.A.N.I.C.S., an acronym for People Acting Normal In Crazy-Ass Situations, is a comic science fiction mini-series created by Rooster Teeth Productions and released in 2005.
Overview
[
]
The series was produced primarily by using the machinima technique of synchronizing video footage from computer and video games to pre-recorded dialogue and other audio. The series was produced at the request of Monolith Productions as part of a tie-in with the "Director's Edition" of F.E.A.R. First Encounter Assault Recon, which the Rooster Teeth team used to produce the series. The mini-series consists of five episodes. Four of these have been released on the Rooster Teeth website, and one — episode 0, a prequel — ships exclusively with the F.E.A.R. Director's Edition DVD.
The story centers on a newcomer to "Bravo Team," a special military group formed to battle supernatural enemies. As the series begins, Bravo Team has been sent into a military facility at night to investigate the reports of paranormal activity from within. This is a parody of the main scenario used in F.E.A.R..
Episodes
[
]