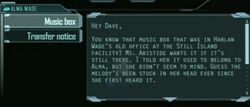 Alma Wade - Music Box is an intel report found in F.E.A.R. 2: Project Origin. The report is found during Interval 07 - Union - Climax, at the end of a long tunnel. It details a music box that once belonged to the game's antagonist, Alma Wade.
Transcript
Edit
HEY DAVE,
YOU KNOW THAT MUSIC BOX THAT WAS IN HARLAN WADE'S OLD OFFICE AT THE STILL ISLAND FACILITY? MS. ARISTIDE WANTS IT IF IT'S STILL THERE. I TOLD HER IT USED TO BELONG TO ALMA, BUT SHE DIDN'T SEEM TO MIND. GUESS THE MELODY'S BEEN STUCK IN HER HEAD EVER SINCE SHE FIRST HEARD IT.
The music box itself can be found on a bookcase shelf in Genevieve Aristide's condo. When Michael Becket enters Genevieve's bedroom, Alma's child form can be seen touching the music box, and when Becket activates the box, Alma begins to whisper feverishly. The music box acts as a trick device to open a door into a safe room hidden behind the bookcase.
Genevieve's exact reasoning for taking Alma's music box is never explained.