Universe

Games

Special Editions

Soundtracks

Promotional

Timelines

Did You Know...
Featured Article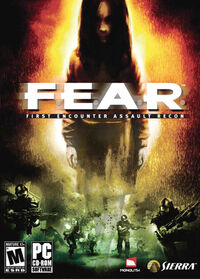 F.E.A.R.: First Encounter Assault Recon is a first-person shooter developed by Monolith Productions and published by Vivendi. It was released on October 18, 2005, with XBOX 360 and PS3 ports following in 2006 and 2007. An expansion pack, F.E.A.R.: Extraction Point, was released by TimeGate Studios in October 2006. The second expansion, F.E.A.R.: Perseus Mandate, was released in November 2007. A direct sequel was announced by Monolith Productions, F.E.A.R. 2: Project Origin, and was released in February of 2009. A multiplayer version of the game, F.E.A.R. Combat, was released on PC August 17, 2006.
The game's story revolves around a supernatural phenomenon, which F.E.A.R. — a fictional special forces team — is called to contain. The player assumes the role of F.E.A.R.'s Point Man, who possesses superhuman reflexes and combats an army of cloned soldiers, and at the same time uncovers the secrets of a paranormal menace in the form of a little girl.
---
Poll
Favorite Soundtrack
Helping Out
To write a new article, just enter the article title in the box below.