The F.E.A.R. Special Editions are special editions of the game that include bonus content not included in the standard game.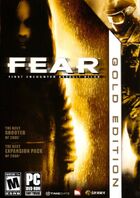 F.E.A.R. Gold Edition is the edition which includes F.E.A.R. First Encounter Assault Recon and F.E.A.R. Extraction Point. It also includes all special content in Director's Edition of F.E.A.R.:
A "Making Of" documentary.
A "Director's Commentary" video with five of the game's lead designers at Monolith commenting on a playthough of the game's original demo.
A short live-action prequel called Alma Interviews.
Episode 0 of a machinima, P.A.N.I.C.S.
Patch 1.08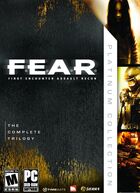 F.E.A.R. Platinum Collection includes all content in the above Gold Edition, plus F.E.A.R. Perseus Mandate.