The Church is a location that appears in F.E.A.R.: Extraction Point.
No religious symbols are shown within the church, however, it would appear to have the setup of a common Christian church. The church appears to be a very large building, with two large altars, several large basements and sub-levels and spacious working quarters. It is located within the fictional city of Fairport.
Because the church only appears in F.E.A.R.: Extraction Point, which is considered to be a non-canon entry in the series, it can be said that the church does not exist in the official canon.
F.E.A.R.: Extraction PointEdit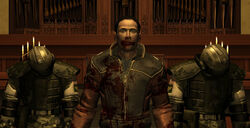 Upon entering the church's main area, the Point Man is confronted by Paxton Fettel, who comments about the Point Man's actions and promptly reactivates the Replicas.
As the Point Man makes his way through the church, he is often attacked by Replicas. After fight with Replicas inside the church he goes down to the crypts beneath the church. There he notices new type of an apparition: Invisible Shade which kills Replica Soldiers. Once the Point Man reaches the church offices, Fettel reappears outside the offices, peering in a window.
At the second altar, the Point man is confronted by Alma Wade in her adult form. Alma sets the church on fire, attempting to kill the Point Man, and send waves of Nightmares after him, but he is able to flee and escape into a nearby warehouse.
Community content is available under
CC-BY-SA
unless otherwise noted.