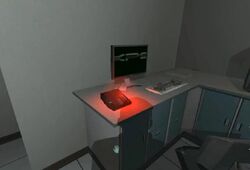 ATC Data Center - Interval 02 - Voicemail 2 is the second phone message of F.E.A.R. Perseus Mandate. It is found in an office of the ATC Data Center in Interval 02 - Revelation - Rescue and Recon.
The message references orders from Armacham Technology Corporation to destroy all files dealing with the company's illegal experiments.
This message will trigger Rodney Betters to comment that Synchronicity Events must be related to Paxton Fettel and Project Perseus.
Uh, Scott, Walt Gragg here. Word's coming down from up top to dump all data pertaining to an... Origin. All tangential files labeled Perseus, Icarus and Synchronicity are to go as well. Something big must be going down.
Curiously, Betters's reaction to the phone message suggests he does not know what a Synchronicity Event is. This contradicts F.E.A.R. First Encounter Assault Recon, in which he explains what a Synchronicity Event is. Chronologically, F.E.A.R. takes place before Perseus Mandate, so there is no reason for Betters to not know what the term means.